Analysieren Sie Abwesenheiten und reduzieren Sie die Fehlzeiten Ihrer Mitarbeiter:innen​
Analyze and reduce employee absenteeism
Reduce absenteeism and provide more stability in workforce planning. With our absence analytics, you can identify the reasons for frequent absences and initiate targeted countermeasures.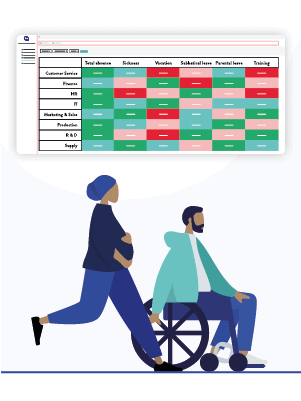 Your benefits with the Absence Analytics Software by functionHR:
Analyze your existing HR data and enhance the findings with surveys


Understand the real reasons for absences of your employees

Learn to plan for future absences and prepare the whole company for them

Support your employees in finding the reasons for their absences and solving problems

Benefit from lower absenteeism and a reliable team with more productivity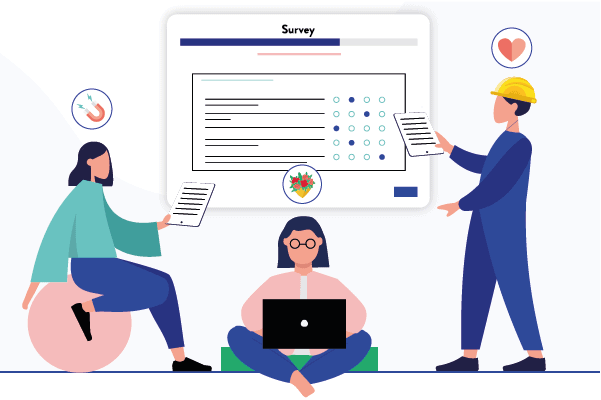 Reduce absenteeism through data analytics
Integrate Absence Analytics with your time tracking software and HR master system to understand and reduce employee absences. With the help of data analyses and artificial intelligence, you can identify typical reasons for absences of your employees and forecast future absences. In this way, you learn to adapt your workforce planning to absenteeism and reduce it in the long term.
Generate insights directly from your HR data

Integrate Absence Analytics with your HR software solutions without administrative effort

Use follow-up questionnaires, if required, to get additional details directly from your employees
More reliability in planning
Evaluate your absence data via an interactive dashboard. The recommendations for action provided by artificial intelligence help you to initiate effective countermeasures and reduce future absences. This way, your company benefits from more effective workforce planning, happier employees and greater productivity.
Benefit from more stability in workforce planning

Identify reasons for absenteeism at an early stage and initiate targeted countermeasures

Ensure a healthy work culture with more motivation and productivity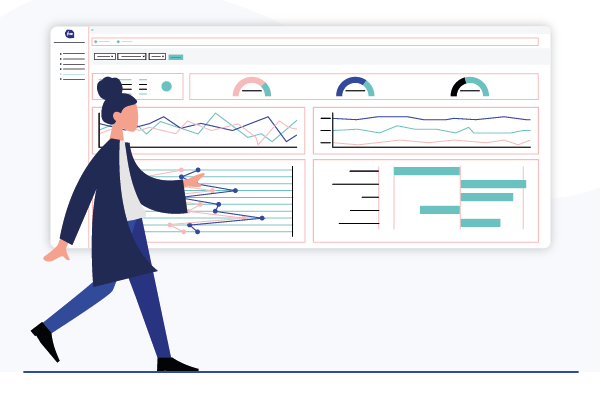 Tackling absenteeism with empathy
High absence rates pose particular risks for companies. Even individual absences from work have a negative impact on the productivity of the entire team. The reasons for absences are often complex and not always immediately obvious.
With Absence Analytics, we help companies to understand these reasons and to take targeted action against them in order to strengthen the work culture and to operate more successfully in the long term.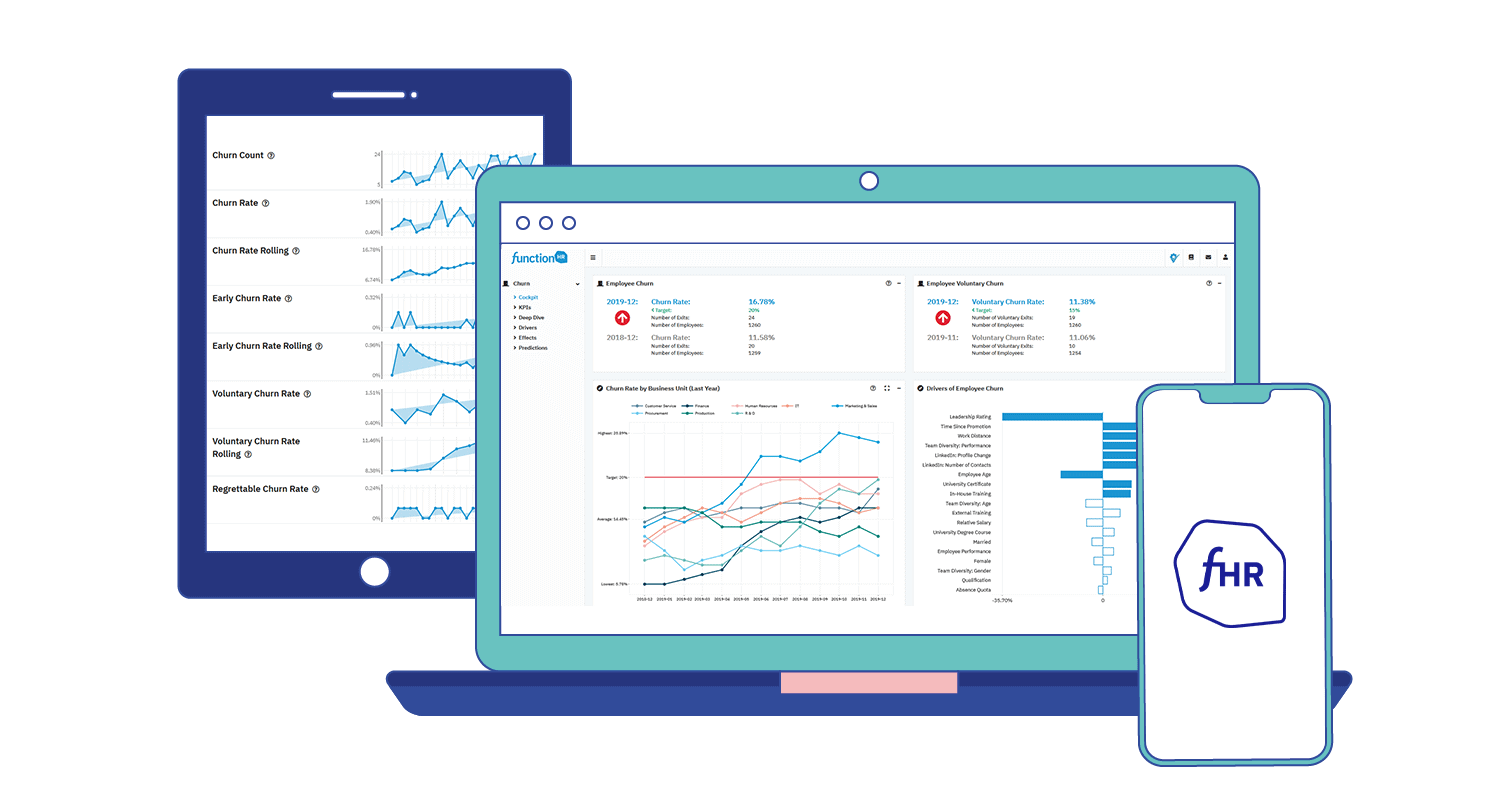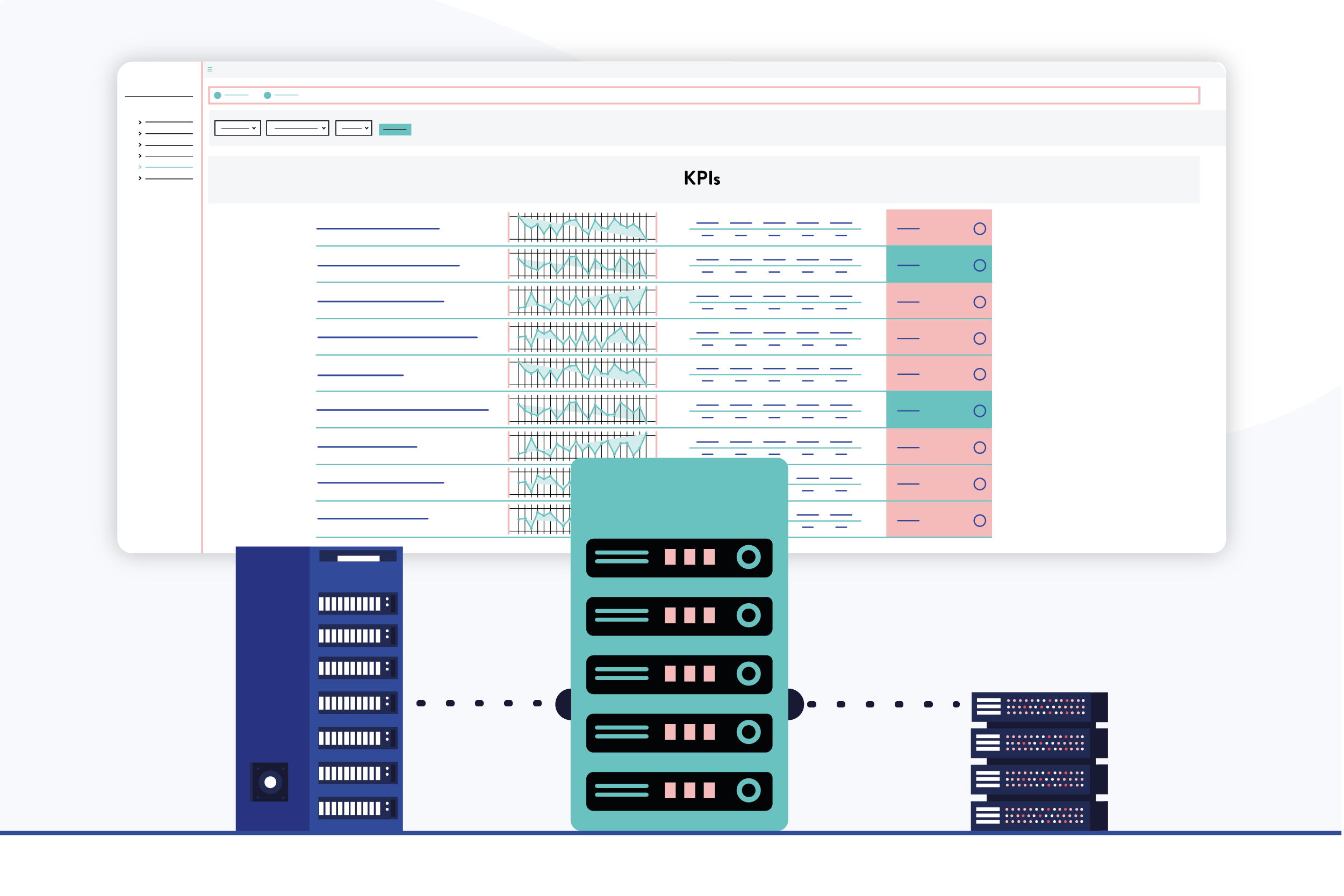 Seamless integration into your IT infrastructure
Integrating functionHR into your existing systems is seamless, easy and requires no development effort at all. Instead of generating new data, our software uses your existing HR data. You can expect insights after the first run of analyses. What's more, all reports and recommendations for action are generated automatically, freeing up time for you to focus on what really matters.

This means that you can focus completely on listening, learning and optimizing.
Do you want to understand and minimize absenteeism among your employees?
Schedule a free demo now and discuss your objectives directly with our customer success team.
Das sagen Kunden über die Exit-Befragungen von functionHR:
"Mit functionHR haben wir unsere Austrittsbefragungen erfolgreich digitalisiert. Dabei können wir auch unsere wichtigen Blue-Collar Mitarbeiter:innen erreichen. Das mitgelieferte Dashboard ermöglicht uns, die Austrittsgründe zu verstehen und gezielte Verbesserungen an den erforderlichen Stellen einzuleiten. Dadurch ist unsere Fluktuation in kurzer Zeit deutlich gesunken."